Meet Lori from Lori's Culinary Creations! It's Friday and it's that day of the week where I get to introduce to you another new blog that has become a new favorite of mine! When I go through someone's recipe section and I click on almost everyone because each name sounds mouth watering, well that's when I know I NEED to feature them!! That's what happened when I came across Lori's blog! Lori takes her adventures and mis-adventures (don't we all have those) from her kitchen and turns them into creations to share with her readers. She enjoys trying new recipes, trying other peoples recipes and especially experimenting with recipes from other cultures and ethnic cultures. Lori was inspired by numerous trips to Europe, tasting the incredible cuisine of Germany, Italy and Switzerland. Isn't that amazing???!!!! It's funny that I had no desire to travel to other countries, my husband is a history buff and would probably go anywhere, but since I've started cooking and and experimenting in other dishes I would love to go to these places, Lori is a lucky lady!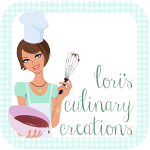 Lori resides in Utah with her husband Mark, two step daughters and four grandchildren. Her and her husband often take off on their Harley to enjoy everything Utah has to offer. Oh and she has four kitties, what's not to love about her now! (Lori we have 3 darlings!) You can also reach Lori through Facebook, Twitter , Instragram and Pinterest.
Let's dish on the dishes! I really wanted to try her Bruchetta Chicken, that's the dish I originally chose to make and feature however I got a sick hubby and a sick toddler last weekend so getting to the store became impossible. Super sad because this dish looks fabulous! Lori loves chicken as I do so she's got lots of Chicken dishes I will be returning to! I've since been to the store and I am making this fabulous dish this week, but I'm not sure I'll get to posting and editing the pics since I'm making it on Thursday night for dinner and I have a sick kiddo….or two….plus I'm under the weather now too! Another one I want to try before this Fall season is over is her Pumpkin Bread. Sounds moist delicious! The other Chicken dish I wanted to try was Lori's Copycat Alice Springs Chicken. Anyone who has ever been to The Outback has had to have tried this dish at one time or another!! Yummy! Lastly, you know this Momma is always looking for a good Quinoa recipe, well this one sounds right up my ally! Southwest Quinoa, I like the flavors in it and this alone could make my lunch plate complete!
Sooooooooo on to what this Momma did make! Well I chose a breakfast recipe because this past weekend my husband had a long weekend home with us, I love making us a big breakfast when we have the time to be lazy in the mornings. This was awesome and super easy, I was able to make a few twists to adjust what I had in the pantry. I used fresh spinach because I had a whole bag of it! So I sauteed it with garlic and sliced green peppers (that I had chopped on hand from another dish) sauteing it did stand in the way of draining the spinach so it was a bit more watery however after all was said and done, it DID not take away from the taste!
I also used fresh mozzarella cheese instead because it's what I had. I'll even add in a new tip I found on the Food Network channel last week with cooking your bacon. I was watching the Barefoot Contessa as I was preparing dinner one night and I usually just listen as I cook, I heard her say, this is an easy way to prepare cooked bacon for a dish without making a mess on the stove top, no more splattered grease all over your tea kettle folks! Here it is, place sliced bacon on a baking rack, place on top of the baking rack lined with tinfoil. Bake for 20-25 min at 350 depending on how you like your bacon, I cooked it a little less than I usually would for this recipe because I knew the Egg bake would be cooking in the oven afterwards to set the eggs, it was awesome, I'm making my bacon this way at all times now!
Other than that I followed Lori's recipe, I added the bacon for both of us and I confess…….we each had 2 eggs! Ah!!!
 I loved the spinach in this dish, I love spinach but only like it in salads and in cooked dishes like this so it was perfect for me! I never think to bake eggs like this! I made a dish like this awhile back for another Featured Friday and I forgot how much I loved it, next time I may try adding some shredded potato in there!! We served ours with a half an english muffin! Yummy!!
Thanks so much for joining us this week, it's been fun getting to know Lori and her blog! Now go over and visit her and some more of her awesome recipes and let her know this Momma sent you! Thank you Lori! 🙂