Happy Featured Friday everyone!! In my Kitchen today to Co-Host with me is Jaime from Mom's Test Kitchen!!! I met Jaime through my #SundaySupper group, but her southern cooking had me hooked at Hello. Jaime is the wife & Mommy behind the little space in the blogosphere where she shares recipes that she cooks up for her family.
Her and her hubs have known each other since they were 8!! Isn't that amazing??! Love that part of her story. They have a beautiful 2 year old they call Princess P. Jaime is proud to be a Southern woman and in her kitchen, good Southern home cooking is a must! Just good food to fill up your belly! So whether y'all are looking for your next date night-in snack or need a quick dinner idea or just need anything toddler approved, visiting Mom's Test Kitchen is a must! I have to try her Spinach Cheese Dogs  and Breakfast Cookies for Miss Madison very soon!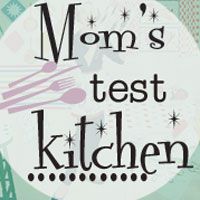 Jaime also runs a weekly link up called Mom's Test Meal Monday! Go check it out if you are a food blogger and would like to join another great party!!
OK Jaime let's get to work. Now remember when choosing a recipe to make I always keep my family in mind, what would they like? What would be a big hit? What can I serve as a week night dinner that doesn't take a lot of time…….Enter your Applesauce Chicken!! Madison is on an Applesauce KICK!!! Which is a good thing of course, she belted this word out about a month ago when she was just learning to say new words, my husband and I almost passed out because to us it seemed like such a hard work to say. She just said "APPLE —SAUCE". It's still too cute and I make her say it all the time because it will surly give you a smile. So when I came across this recipe I knew it was for us! I also decided to take Jaime's suggestion and serve it with her Corn, Tomato and Asparagus Salad that she served her chicken with. Here we go!!!!
Apple Sauce Chicken
Ingredients
6 Chicken Tenderloins
1 1/2 cups Applesauce
1 small Onion, sliced
2 teaspoons Apple Cider Vinegar
2 cloves Garlic, minced
Pinch of Cinnamon
Black Pepper to taste
Instructions
1. In a skillet with a lid, saute the Onions and Garlic over medium-low heat.
2. Add the Applesauce, Vinegar, Cinnamon & Pepper to the skillet and stir until it begins to bubble.
3. Add the Chicken to the skillet and cook on one side for around 5 minutes.
4. Turn the Chicken over, cover and continue to cook 10 – 15 minutes or until chicken is no longer pink.
Corn, Tomato and Asparagus Salad
Ingredients
4 Roma Tomatoes, quartered
1/2 cup Frozen Corn
1 cup Chopped Asparagus
2 tablespoons Cider Vinegar
1 tablespoon Honey
Salt & Pepper to taste
Instructions
1. In a medium bowl, whisk together the Cider Vinegar and Honey.
2. Add the Tomatoes and toss to coat.  Let the Tomatoes marinate for about an hour.
3. Saute the Corn and Asparagus over medium heat until tender.  Season with salt & pepper.
4. Add the Corn & Asparagus to the Tomatoes and toss.
Since it's winter out and I imagine this dish to be a cold salad I decided to add the tomatoes into the skillet at the end to warm the dish through to make a warm salad. I'm so glad I decided on this because it was delish! I will surly be trying it cold during the summer though!
Thank you Jaime for Co-Hosting with me today, we enjoyed both of your dishes very much. My husband and I both thought the chicken was moist and delicious! My daughter, well she only ate the applesauce, but I can't tell you the last time she ate chicken LOL!! I recommend this dish to anyone that has a little one that enjoys chicken and applesauce, it will be a sure win! Now go visit Jaime at Mom's Test Kitchen and make sure you tell her this Momma sent you!